Welcome to 416-FILM
Truly you are welcome. Please stop thanking me.
Don't know what we're all about? Click on "About Us" for details, but the short of it is that 416-FILM is a community of local and world-wide film makers interested in having fun making and sharing information about the craft and art of films.
People of all skill levels are welcomed, so start clicking on links and get out of my face!
News:

June 2011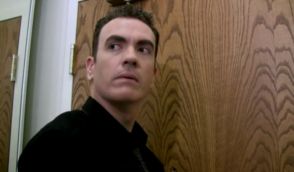 The Results Are In

- I've been waiting for the judging results from the Toronto Film Racing 24 hour contest before posting this, and they have finally announced them.

"Get A Life" did pretty well. 3rd place in the audience choice, and awards for best editing, best special effects and best actor for Neil Bennett.

- Congrats, Neil. You can check out his award winning performance here.




April 2011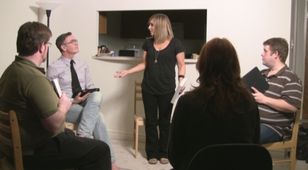 - For the past year we've put quick and dirty movies on the back burner in favour of planning for some much larger projects, including a feature film. As a result we haven't posted anything new in a long while. As penance, we have signed up for two 24 hour film contests within the same month. It's a sure fire way to force us to produce something.

- The first one is already done. The screening will be at the Bell TIFF Lightbox Theatre on April 20th. Expect "Book Club" to be posted here soon after the screening. And I promise you, the lame title is a cover for a far more bizarre story.

- Well, the results are in... We didn't win anything. But now you can watch "Book Club"

here

, so that makes

you

a winner!


December 2010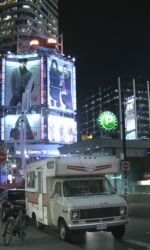 416-Film... Everywhere!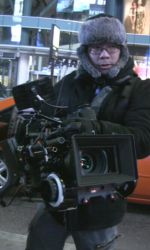 - Yep. You're seeing correctly. That's the 416-Filmmobile in the heart of Dundas Square. I was there to lend a hand to Alex Boothby who was shooting his feature film "Mr. Viral".
It was a pretty crazy night with cops blocking off traffic so 100 people could swarm the intersection while three Red cameras rolled.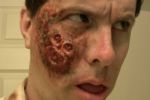 - So inspired was I by the opulence of the Mr. Viral shoot that I finally got around to shooting what I hope to be the last bit of footage for "Zombie Surfing". I put on some zombie makeup and fondled a decapitated head on my dining room table. ...Now you see why I hope this is the last of it.





November 2010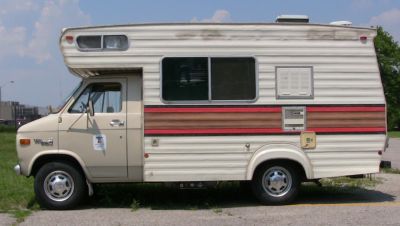 - It's been a while since the last update. Six months to be exact. That might lead one to think there's nothing happening at 416-Film, and that's only partly true.

- We've been working on getting our feature film project off the ground. To that end we've purchased a RV that plays a large part in the story. Check out the picture of the fabulous 416-Filmmobile!

- And speaking of feature films, Alex Boothby, co-creator of

"Cock-Knockers From Outer Space"

is shooting his feature film starting this month.

-

"Psycho Susie"

screened at the

Barrie International Film Festival

last month. We didn't win any awards, but we're pretty sure we got the largest laughs and biggest applause.

- The holiday season tends to put a big damper on film production, but we have a project in mind for early next year. So stuff is happening. Trust me.


May 2010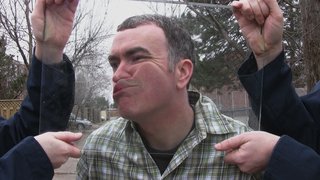 - Psycho Susie is now completed and available for viewing in the films section!

- We also completed a 24 hour film challenge at Ed Video last month. The screening is on May 16, when we find out how many awards we've won! Positive thinking, I tells ya. The film will be posted here after the screening.

- If we manage to complete "Zombie Surfing" this month, this will be the most prolific 30 days we've ever had. ...but don't hold your breath. We have so many ways to procrastinate.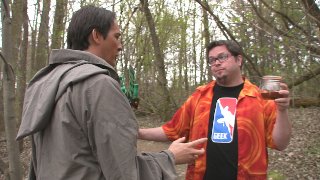 Team Kung-Fu Gaggle Squad does it again!

- The screening for Ed Video's 24 hour film challenge was the other day, and our team took the prize for Best Picture, just like we did for "Keychain of Events" two years ago.

-Our offering this time, " 'Egypt Me " had to incorporate the following elements: a relationship in time, the word "set", and a body of water. You can check out the flick here.





April 2010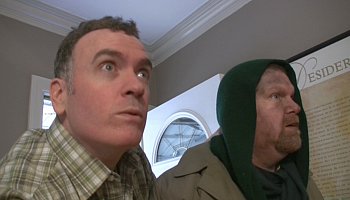 - We have another short film in the can. "Psycho Susie" was shot loosely in the film challenge format. Incorporating some random elements pulled from the internet, the script was written in 4 hours. Shooting was just 9 hours split across two days. The film is now in post-production, where we tend to spend a lot more time on things.

- The exciting thing is that you'll see a couple of new faces in this film. Our casting call last month introduced us to Neil and Emer, who were quite game for our style of film making, and had a lot of fun helping us make this one.

- I've made an update to my HDV vs. AVC debate in the forum, HERE.



March 2010

- As expected the holiday season slowed down progress on productions, but that doesn't mean nothing has been happening. Just nothing photo worthy, so excuse the text only update.

- 416-Film is having a talent casting call soon. We're looking for actors that share our twisted sense of humour. Don't bother submitting your name if you're interested, we've already had a great response and everything is booked. We can't wait to see what kind of nut bars show up.


November 2009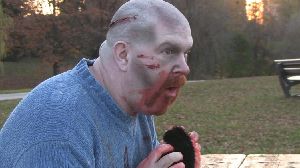 - Production tends to wind down this time of year, what with the holidays on the horizon and what-not. But we did manage to shoot a bit more footage for "Zombie Surfing" with Pat, AKA Skeeter the Cock-Probe, from "Cock-Knockers From Outer Space".





October 2009


Left to right:

Wardrobe sale in stage 7, Adam Smith of Sword in the Stone, Exterior of stage 4. Largest purpose built stage in North America.
- There was a wardrobe sale at Pinewood Toronto Studios. I checked it out mainly for an excuse to wander around on the studio lot, but it also gave me a chance to say hi to friend of 416-Film, Adam Smith, who was peddling his wares. You can check out his cool handy work at www.swordinthestone.ca

- We have a zombie shot film in the works and, no, it's not called "It Came from Planet Earth." That's another zombie(ish) film we're (sort of) working on. This one is tentatively named "Zombie Surfing." Most of it has been shot and we hope to wrap it up next month. You can see a still from it on the Projects page.

- "Cock-Knockers From Outer Space!" and "A Keychain of Events" were both screen at the Barrie Film Festival. People seemed to be laughing at the right parts, so it's good to know that it's just not us that finds our stuff funny.

September 2009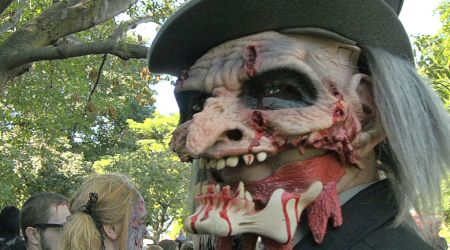 Zombies!

- There was a special zombie walk to celebrate George A. Romero's new movie "Survival of the Dead" which was screening at the Toronto International Film Festival.

We didn't participate, but we couldn't pass up the opportunity to grab some footage of a couple of hundred zombies wandering through the city in case we could use it in some other production to make it look like we had a budget.

And that's exactly what we're gonna do. Some of the footage is already earmarked for insertion into a zombie themed short film we're currently working on.




August 2009


- Here it is. The movie that Thor himself didn't want you to see. It's the result of our self imposed 36 hour film making challenge. Well, we did write and shoot it within 36 hours, but took our time with the post production. Rules are meant to be broken... yeah.

Anyway, the randomly produced elements we had to incorporate into the story were:
1) A rubber chicken invasion
2) A romance novel and sleeping bag
3) The line, "Let it rip!"

The first element is probably most responsible for just how stupid this movie is. Luck of the draw I suppose. So check it out. It's called... ahem... "Cock-Knockers From Outer Space!" It's in the Films section,

HERE

. Don't forget to click on the HD option!.
July 2009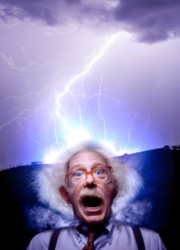 Somebody doesn't like us!

- Since Ed Video wasn't hosting a 48 hour film challenge this year, some friends and I decided do a film challenge by ourselves.

We used this page to generate a random prop and situation:
http://www.gkbledsoe.com/articles/process/writing_prompt_generator.html
And this page for a random line a dialogue:
http://idioms.thefreedictionary.com/

24 hours into the project, a lightning strike took out the power to my neighborhood! We waited around for a while, but we had no idea when the power would come back on. So we packed it in and scheduled the completion of the challenge for two weeks later.

Someone obviously doesn't want you to see this work of genius , but we will prevail and post it next month. We shall overcome!
June 2009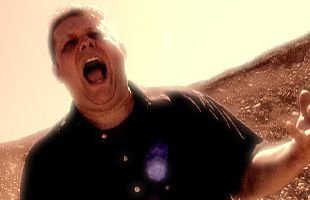 - Well, at long last you can now see our prize winning film "A Keychain of Events".
It was the 1st place winner in the Ed Video 2008 48 hour film contest.
Check it out in the films section!








May 2009

- I've been promising to post our award winning film "A Key Chain of Events" for some time. I forgot that we had a deal with Movieola to not distribute it on the web for a year.
As the first anniversary approaches it looks like Movieola is trying to get their money's worth out of it. It's being broadcasted three times this month. ...Wait a minute. We didn't get any money from them. I guess it's because they just like it so much.
- SOON, for realz, it will be posted.
Feb. 2009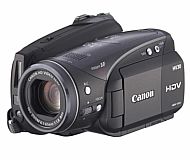 416-Film goes High Def!

- 416-Film is now the proud owner of a Cannon HV-30 HDV camcorder. Expect all future projects to be presented in the most astounding resolution free video servers with limited bandwidth have to offer!

- If you're interested in HDV vs. AVC, and why I chose to go with HDV, check out this little article in the forum.




Jan. 2009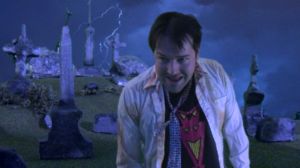 - The plan was to start shooting "It Came From Planet Earth" in January. Well, we shot some tests this month, so I guess we're on schedule. The image to the left is a composite of a still image of clouds, the graveyard miniature and a life sized Rob shot on green screen. We've also been doing tests using 3D graphics to extend the miniature sets. These have been so successful, we're now thinking of expanding the use of 3D in the project.

- You can see an example of the set extention tests in the Production Report.




Dec. 2008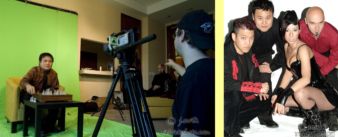 - I lent a hand (and a green screen) to Steve Lambert of Jade Lens productions for their production of a music video for "Delica".

- You can check out the band's music and other photos from the shoot at their web site here.






Nov. 2008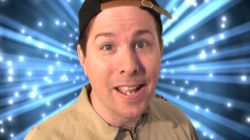 - Rebuilding Ricky Episode 3 is now online!
- See the spectacle that was one year in the making! One way too long, under productive year. Why does it take so long? Why?
- Anyway... You can see it here at this site or on YouTube in high quality.





Oct. 2008


- The broadcast date for "A Keychain of Events" has finally been announced. If you subscribe to Movieola, check it out. For those of you who don't, it should be posted in our movie section soon. So there's no excuse for not watching it!

Sept. 2008


- The production of "It Came From Planet Earth!" is back up and running again. Progress on building the miniature elements is moving at a far more rapid pace than before. Live action shooting is planed for January. It'll be fun to see if we can keep a deadline for once.

Aug. 2008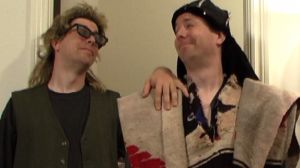 - Rebuilding Ricky 3 is now done shooting! There's still a good deal of post production to go, but a significant milestone has been reached.... The one I was aiming for 6 months ago.

- Still don't know the details of our deal with Movieola, so I am unable to post our award winning short, "A Keychain of Events." As soon as we know what's going on, you'll know.





July 2008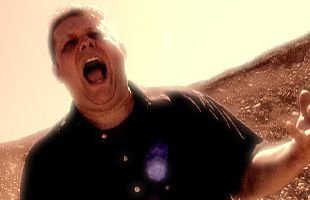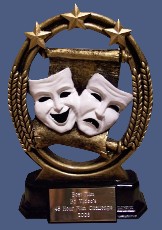 - I joined up with Paul French (pictured to the left) and Rob Paul to form "Team Kung Fu Gaggle Squad" and entered the 48 hour film challenge organized by Ed Video in Guelph. And guess what?

Even have the trophy to prove it. See?
Part of the prize was a broadcast option from Movieola. I'm not sure what all it entails, so I won't be posting "A Keychain of Events" until I get the details. But once I have them I'll be posting the movie here and/or the broadcast time. Stay tuned!


- Ricky Episode 3 has hit a major snag. You can find out about all the news, both good and bad in the Production Report.
June 2008


- I helped out with a music video for a band called End Program. It was pretty wild. The crowd was nuts. One of my jobs was to protect the camera operator for stray bodies flying out of the mosh pit. My feet got nicely trampled. One of the exciting things about the shoot was that it was shot on the Red camera. (And a GL-1, which these images are from). We quickly learned a very important lesson about the Red cam. If you want to know what it is, check out the
Production Report here
.

May. 2008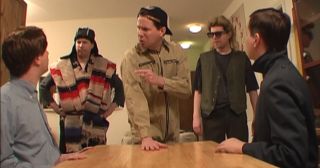 - Progress is being made on Ricky Episode 3. As always you can check out the latest updates in the Production Report. In fact I just added some info on how to remove green "fringing" from you chroma keys. Check it out.

- I will be assisting with a co-worker's project soon. It's a heavy metal total rock out music video! It's not an official 416-Film project, but I'll be reporting on it anyway. The big thing is that it's going to be shot on the Red camera. If you don't know what that is, check it out here.



April 2008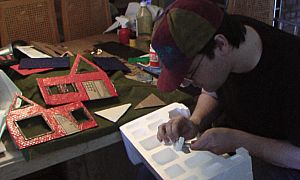 - Production has begun on a new project called "It Came From Planet Earth!" It's directed by Rob Paul and will be an interesting mix of live action and miniature backgrounds.

- You can check out the progress of "It Came From Planet Earth!" in the Production Report section of the forum.


- You may not have noticed, but there was no month of March this year!



Feb. 2008


- Okay. I promise this is the last time I'll talk about Pulp Muppets. It's broken one million hits on YouTube alone. If only all of our films were this popular! If this is the first you've heard of Pulp Muppets, then get with the rest of the world and check it out HERE. And if you're wondering how it was made, check out the making of HERE. So that's it! Pulp Muppets will always be here, but this is the last time I'll mention it. ...Unless something else really cool happens with it.
Jan. 2008


- Happy New Year from the gang at Rebuilding Ricky Episode 3. (Still in production.)
- Read my comments on the lighing of the above shot in the
Production Report
.
Dec. 2007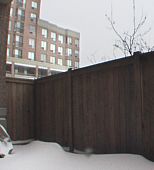 - Here's what it looks like outside as of the 16th of this month. I guess winter is here.

- What do you do when you have the urge to make movies, but hate shooting in the cold? You make sure you've shot all your exterior scenes the month before, like I did with Ricky Ep.3, so you can shoot the rest of your movie indoors. Now you see the method to my madness.

- The first interior scene I shot for Ricky Ep. 3 involved my new green screen. Check out my failed attempt to use it HERE.




Nov. 2007


(On location of Ricky 3)
- Rebuilding Ricky Episode 3 is in production and it's making history! This is the first episode of Ricky to ever have a crew. Truly an amazing achievement.
- There's a new section in the
Forum
called Production Report. This is where you can keep people up to date on the status of your production.

Sept. 2007

- 416 Film is one year old!

- Pulp Muppets has exceeded half a million views on YouTube alone. I don't know how many views it's generated on other sites, but I suspect it may be greater than the total number of atoms in the universe!

- There are a couple of new projects in development, but they haven't solidified enough to post them in the Projects section. But keep checking.



Aug. 2007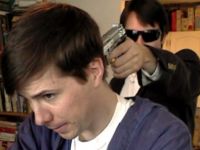 - August is a little slow for news, so I though I'd dig into the vaults and dig up a movie I made almost 10 years ago, "To John Woo... Thanks for the Ammo!" It's the first effects heavy movie I made. All the muzzle flashes, smoke and bullet hits were added in post. It's fun gun violence for the entire family. Check it out!

- For some reason, The Mighty Blowfish has been the least viewed movie at 416film. But in the last couple of weeks it has grown in popularity and has become our MOST viewed movie. Well, next to Pulp Muppets, of course.



July 2007

Pulp Muppets on CNN Headline News!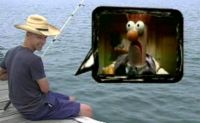 - Rob and I have given CNN an interview for Pulp Muppets. It was aired July 21 & 22 at 12:30pm and 5:30pm EST in a segment called "News To Me". We tried to get Wolf Blitzer to host it, but he was very rude to us and asked us to stop calling him at home. Good news is we managed to get a special guest host and co-CNN anchor Brian Todd agreed to make a "walk on" cameo. Check it out HERE.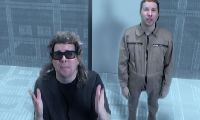 - Rebuilding Ricky Ep. 2 is finally done!
- Check it out in the Films section.
- A big thanks goes out to Devlin, Adam and Scotty for their work on the audio. You really need a good audio setup to appreciate the details they've put into it.


- I thought May would be the end of Pulp Muppets, but it just seems to keep coming back for more. There was a spike in traffic after a link appeared on the front page of IMDB.



June 2007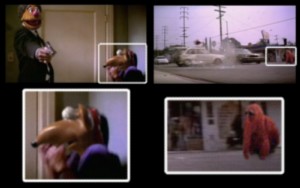 - Well, May was certainly the month of the Pulp Muppets. It's hard to say exactly how many people watched it last month, but I think 500,000 is a fair estimate.
Most loved it. Some hated it. But those were obviously some very bitter, bitter people. Let's have a moment of pity for them... (Sighs, with an understanding look on face.)
There were a few cameos that people caught, such as some Fraggles, Guy Smiley and Alf. But no one mentioned Rizzo the Rat or poor ol' Snuffleupagus. I guess people still can't see him.




May 2007


- Looks like May is going to be the month of the Muppets... Pulp Muppets that is!

- I always thought Pulp Muppets was one of those quirky little movies that could go viral, but after 6 months of very modest traffic on YouTube, I was losing hope. Suddenly, in just this past week it has exploded all over the Internet. Just Google it and you'll see. So long as the series of tubes that the Internet is constructed from can hold out, we can expect Pulp Muppets to pop up in all sorts of places. For the remainder of this month I'm going to post any Pulp Muppet sightings of note...

- I can't be sure, but I think what started it all was a list of the top 10 Pulp Fiction Parodies on YouTube posted on 10 Zen Monkeys, April 26. I don't know if the list is in any particular order, but thanks for putting us at #1, guys.

- Film Threat put this flattering item on their front page:


Aw, you're making us blush!

- Pulp Muppets will be mentioned in an upcoming issue of Rockstar magazine.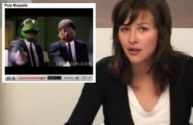 - This one blows my mind. I don't even know what it is, 'cause I don't speak German. But some hot chick does a web-news piece on Pulp Muppets. If anyone can translate this for me, I'd love to know what she's saying. All I can make out is, "Muppets" and "mit Kermit und Fozzie Bear."
http://www.youtube.com/watch?v=DZJw3S1CYr0



- I now have a translation of the above German web-news piece. The previous news piece had something to do with aggressive children, so they used our gun toting images of the Muppets to make this joke...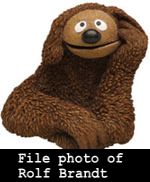 "By the way: the best way to prevent aggressive behaviour of children is to NOT let them watch violent movies. Most suitable (is to show) only such funny things like the Muppets. For many years this helps best. It is nearly impossible to do anything wrong with (by showing) Kermit and Fozzie Bear (to children). "

Big thanks to Rolf Brandt for the translation.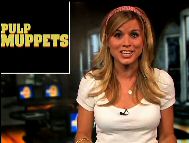 - eBaums World has kidnapped Pulp Muppets and is generating more hits than YouTube.


- The chicks seem to really dig Pulp Muppets. Maria Sansone of Yahoo TV did a news bite raving about the casting.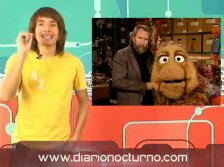 - Apparently cute(ish) Spanish speaking boys also like Pulp Muppets. We were mentioned in this web news piece by Telurica TV.
- Local TV station CityTV showed clips, but never bother to mention the name of the video in the Web Bizarre segment of their WebNation show. But they did give 416film an on screen credit and linked us on their web page.
April 2007

Pulp Muppets goes VIRAL!

-After incubating on YouTube for 5 months, "The Pulp Muppets Take The Internet." The last three days alone have seen a sudden increase of 8,000 hits, and we can only assume it's just starting to gain speed. Watch out Star Wars Kid and Numa Numa Guy, for Pulp Muppets will strike thee down with great vengeance and FURIOUS anger!!
March 2007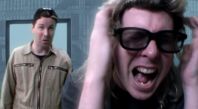 - Production on Ricky Episode 2 continues. ...Very, very slowly.
- Check out the production blog here.




Feb. 2007

- It's too damn cold! Nothing is happening.
- Pulp Muppets has surpassed 3000 hits. Check it out if you haven't already.
Jan. 2007

- Happy new year!

- Rebuilding Ricky Ep. 02 is in procuction now. You can check out the production blog in the forum.